DIY Halloween 2017
October 23rd, 2017
Halloween is just around the corner and with only 8 days left, we've gathered up last-minute, DIY decorations that will creep-out your guests! All ideas and images have been found on Pinterest – the ultimate DIY source!
Everything listed here can be made with items found around the house, or are relatively cheap to purchase.

Haunted Balloons
Materials Needed: Colored Balloons (orange, black, white, purple, etc.), Black Sharpie, Ribbon


   1. Add air to the balloons and tie ribbon.
   2. With your black Sharpie, draw on creepy faces such as, jack-o-lanterns, ghosts, skulls, etc.
Purchase a pack of 15 orange balloons for $2.99 at Party City! 

Spooky Eyes
Materials Needed: Empty Toilet Paper Roll, Glow Sticks, Pencil, Scissors


Save a few empty toilet paper rolls and follow these 3 steps:
   1. Draw and cut out different shapes of eyes in the empty toilet paper rolls
   2. On the night of your party, or Halloween, insert glow sticks to the TP rolls
   3. Place the completed project in your windows or bushes to scare your guests!
You can purchase glow sticks at the Dollar Tree – 8 come in 1 pack for just $1! 

Infested Soap Bottle
Materials Needed: Soap Bottle, Fake Insects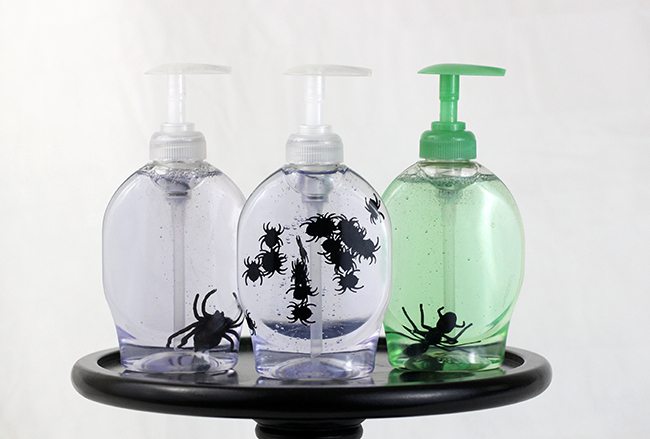 Gross out your guests by inserting fake insects in your hand-soap bottles in the bathroom and kitchen. Remove the soap sticker for a better effect!
You can purchase a pack of 50 mini spiders at Party City for just $1.99! 

Front Door Mummy
Materials: White Streamer Roll, White & Black Paper, Tape, Scissors


   1. Wrap your front door or any interior door with the white streamer tightly, and tape at the end. (This won't damage your door, and it's an easy clean up!)
   2. Cut out 2 big circles with the white paper, and 2 small/medium circles with the black paper (the mummy's eyes)
   3. Tape the white circles first, and the black circles on top of the white.
You can purchase the white streamer for $1 at the Dollar Tree 

Halloween Party Cups
Materials Needed: Plastic Cups, Googly-Eyes, Tacky Glue or Hot Glue Gun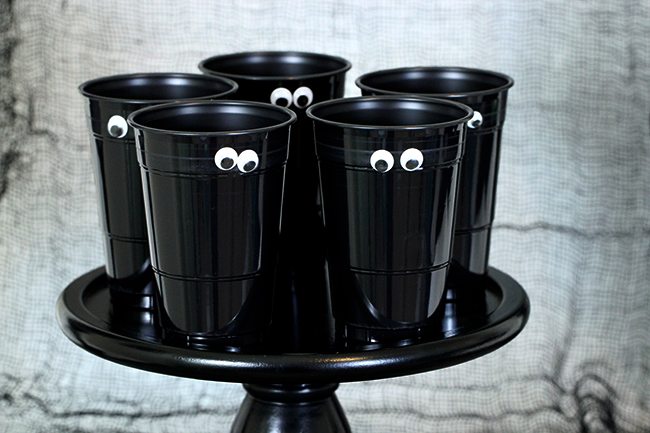 Plastic cups are a necessity at parties. Keep an eye on your guests by adding googly-eyes to the cups! Simply glue the eyes to each cup – or you could set up a DIY station and have your guests decorate their own!
Purchase a pack of 60 googly-eyes for $2.99 at Michaels

Halloween Utensil Holder
Materials Needed: Colored Plastic Cups, Glue, Decorations of your choice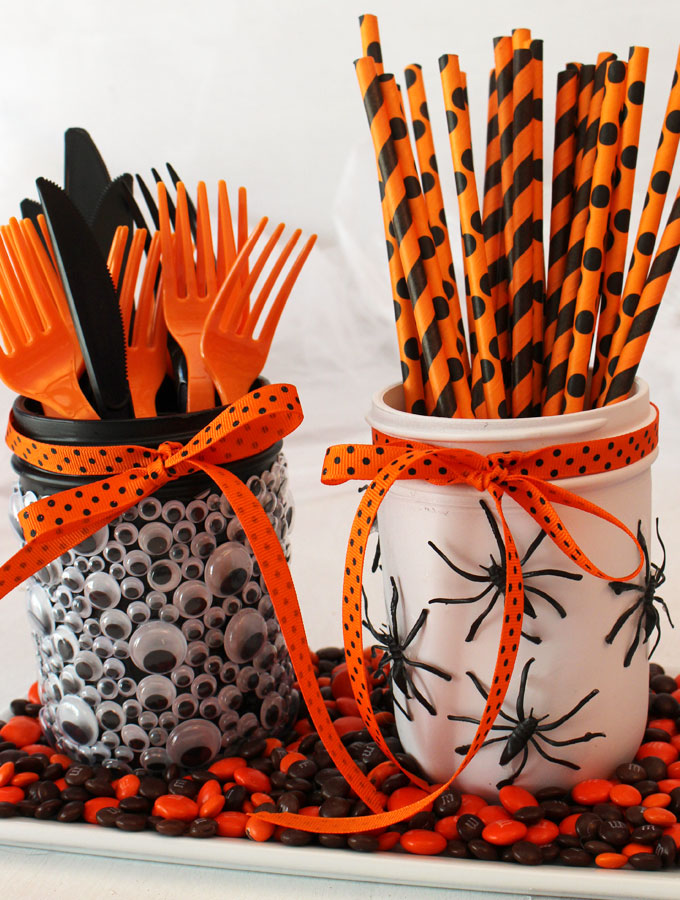 1. Choose your decoration – i.e. plastic spiders, googly-eyes, ribbons, spider webbing, etc.
   2. Glue your decorations to the plastic cups. Ribbons can be wrapped around and tied in a bow
   3. Insert the utensils into the cups!
You can find decorations at Amazon for cheap! 
(If you have extra mason jars, you could spray paint them with Halloween colors and glue your decorations with a hot glue gun!)

Spooky Spider Lamp
Materials Needed: Dark-Colored Paper, Pencil, Scissors, Tape


If you have light-colored lamp shades, draw and cut out scary silhouettes of your favorite Halloween images! i.e. Spiders, webs, skulls, pumpkins, witch hats, etc.


Spinning Ghosts
Materials Needed: Paper (or White Cardboard/Poster Board), Scissors, Black Sharpie


   1. Follow the spiral pattern (Download FREE pattern here)
   2. Draw on ghostly faces
   3. Cut out and hang around your home!
Regular paper will create smaller ghosts, white cardboard or poster board will create larger ghosts

Free Downloadable Halloween Prints
Materials Needed: Computer, Printer, Paper


Check out DIY Bunker for FREE Halloween Prints!
We hope you enjoy these cheap and spooky DIY crafts that we found on Pinterest! 
HAPPY HALLOWEEN!